Team
Dr. Praveen Kumar Rai
Dr. Praveen Kumar Rai has graduated from Kothiwal Dental College and Research Centre, Moradabad in 2005.
He maintains two state of the art dental practices in Lucknow with a major emphasis on restorative, cosmetic and implant dentistry.
He has a teaching experience of more than 14 years and being a teacher himself, he has an appetite for learning and has continuously trained himself to keep abreast with the advancements in modern restorative and esthetic dentistry.
He has been bestowed upon the prestigious Fellowship of International College of Dentists and is also a Fellow in Oral Implantology and Cosmetic Dentistry. Dr Rai is a member of Indian Dental Association, Indian Society of Oral Implantologist, Academy of Oral Implantology and Indian Academy of Aesthetic and Cosmetic Dentistry.
His passion towards profession has led to the foundation of WHITE MIRACLES which is a firm devoted to the profession by raising standards of dentistry in practice and education under which
He runs a clinic and an academy for fresh graduates and conducts an innovative 'self realization' workshop by the name of SUPERDENTIST
Dr. Praveen lectures extensively on national and international platforms and is a certified trainer and key opinion leader for many reputed multinational dental brands.
Dr. Divas Kumar Khandelwal
Dr. Divas Kumar Khandelwal has graduated from Kothiwal Dental College and Research Centre, Moradabad in 2005. He has also done post graduate training in Clinical Research. He is a dynamic clinician with special interests towards Orthodontics.

He has gained tremendous experience over period of 9 years and is one of the most sought after young consultants for correction of mal-aligned teeth. He is a visiting consultant to many reputed clinics not only in Lucknow but also around the state.

Dr. Khandelwal is an active member of Indian Dental Association, Affiliate member of American Dental Association and an office bearer of Lucknow Branch.
Dr. Farhan haider
Dr. Syed Farhan Haider is a graduate in dentistry and a post graduate in medical human anatomy. He is a BLS (Basic Life Support), ACLS (Advance Cardio Vascular Life Support) healthcare provider certified by AHA(american heart association).

He has attended many conferences and courses and coordinates a training programme for fresh dental graduates. Dr. Farhan is in private practice since 2013 and has a keen interest in root canal treatment and cosmetic dentistry.


Dr. Sandhya Rai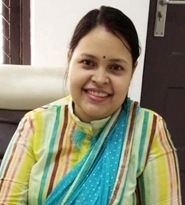 She specializes in Clinical Psychology and has a vast experience of managing psychological issues. She has in depth knowledge of statistical analysis and psychotherapy. She is a certified level 5 expert in Hypnotherapy and excels in counselling and relationship management.
She is an expert in Theta Healing, De­-addiction and­­ Psychological assessments. Her special interests include Behavior Management, Anxiety Reduction, Meditation and Adult Psychology. She has presented numerous scientific papers in various national and international conferences and has multiple publications to her name.
She is active member of Indian Association of Health, Research and Welfare and Founder member of Sankalp, NGO. She is ex Psychologist, St Joseph Hospital and ex Relation Consultant at Nirvan Hospital and Rehabilitation Centre.